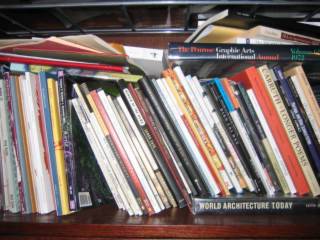 When I visit a home for the first time, I'm usually most interested in their bookshelves. They are my flames and I am their moth. So here's mine. Maybe I can encourage a few fellow bloggers to show me their top shelves.
Top left horizontal row (top to bottom): the new
McSweeney
's (a gracious gift from my mother-in-law who likes to buy me poetry books and I like to accept them), a few
anon
press publications, a Skein (handmade, very rad, edited by Seth Parker[I'm in the next one and very excited]), a
6x6
with the rubberband spine, a
free lunch
, and a
Mid-American Review
.
Top right horizontal row (top to bottom: the new
Field
,
Canary
#2 (#3 is on my couch right now),
Skanky Possum
, Zukofsky, Ted Greenwald, and a graphic arts book from the 70s that I like to cut stuff out of and paste on things.
Vertical row (left to right, just like we read): some old Greg Kuzmas, 4 or 5 print mags I'm in from 2 or 3 years ago, the beats,
Jonah Winter's Amnesia
, some Stephen Dobyns, 4 James Tates, Prigov and Foos from the Ugly Duckling Presse (I did a review of the Foos in Octopus #4), the big black one in the center is Charles Simic's Voice at 3 am, and then 3 more Simic's, Michael Heffernan, another Skanky Possum, an older McSweeneys,
Tony Tost's Invisible Bride
(this one's signed and is precious to me--I have another that is beat up),
David Berman's Actual Air
,
Matthew Rohrer's Green Light
(
here
's my review of it), Komunyakaa, 2 Ron Overton's from
Hanging Loose
, Geoffrey Dyer's Dirty Halo of Everything from
Krupskaya
,
Lyn Hejinian's
My Life in the Nineties by Shark,
Fanny Howe's
Tis of Thee and Lohren Green's Poetical Dictionary from
Atelos
, a couple Lawrence Raab,
K. Silem Mohammed's
Deer Head Nation from
Tougher Disguises
, Jalal Toufic's Distracted from
Tuumba
, Bukowski (more on the lower shelves), a couple Hayden Carruths, a couple Albert Goldbarths, and then 4 Russell Edsons including his novel (I bet you didn't know about that) The Song of Percival Peacock.
Now you know what books
not
to get me for Kwanzaa. I'll make a list of what I
do
want, after Thanksgiving.
Now let me see
your
shelves.